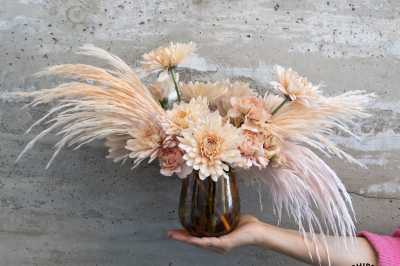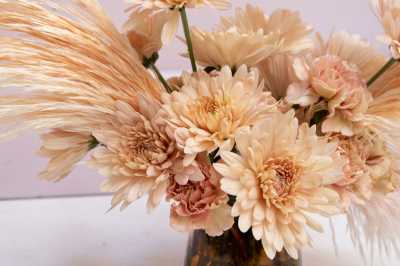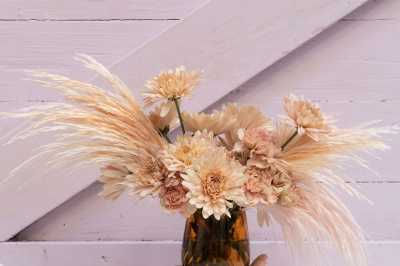 A Fine Line
#whatfranwore but make it floral!
Details, Details, Details
"A Fine Line" is a 360˚ vase, vase baby arrangement (that's flowers all around, y'all) that comes with twenty-three stems of fresh flowers and preserved foliage in a monochromatic palette of pale peaches, baby pinks, and blushy beiges.
Arrangement ships designed and ready to chop and drop into the custom tortoise shell-toned glass vessel that stands 4" tall.
Extra, extra – "A Fine Line" includes flourishes of (nearly) everlasting pampas grass that is preserved via a multi-step process using alcohol and wax. For quality reasons, we ship preserved foliage with a protective paper divider. Upon arrival, simply pull up on the paper to remove it from your arrangement, and voila – your masterpiece is complete!
Makes scents – The preservation process involves man-made perfumes. Although fragrance fades with time and exposure to air, we don't recommend sending "A Fine Line" to scent-sensitive folks. Please gift accordingly.
Please note: While working with Mother Nature means we can't guarantee that the flower varieties and colors will be exactly as stated (or pictured!), we can guarantee that we always ship the highest quality stems we can source from our growers and that your arrangement will be fresh, beautiful, and that you (or your recipient) will love it!
Due to unforeseen circumstances, we may sometimes need to substitute the vessel paired with this product. In these rare instances, we will replace the vase shown with another that is both appropriately sized for this arrangement and of equal or greater value than the original vessel.
This one is in the books!
This product is no longer available but we have so many other amazing options!
Shop Available